You decide, we make it happen
We combine strategic, operational, technical, secretarial and consulting expertise, helping trustees achieve their strategic goals more quickly. We give confidence that day-to-day scheme management is in safe hands, freeing trustee time to focus on key issues.
Outsourced Trustee Executive Support
We can blend a team with a breadth of professional backgrounds and experience to provide a fully outsourced pensions department; which fits your needs, culture and ways of working.
Interim Pensions Manager
We can provide an interim head of trustee services/ pensions manager to lead an in-house team or to provide strategic support to your Trustee board, as needed. The Muse Outsourced Pensions Management team includes expert, experienced professionals who can provide value, knowledge, challenge and critical thinking.
Secondment to Pensions Team
We cover interim support for key roles, such as maternity or to cover gaps while you are recruiting. Our team can hit the ground running and provide assurance and add value straight away.
Change and Large Project Management
We can add additional expert executive support for existing in-house pensions teams, for example, to cover projects or peak workflow times; marrying project management experience with an in-depth knowledge of pensions. We can either take charge of whole projects or work as part of a broader team to free up the pensions team and Trustee to focus on key issues.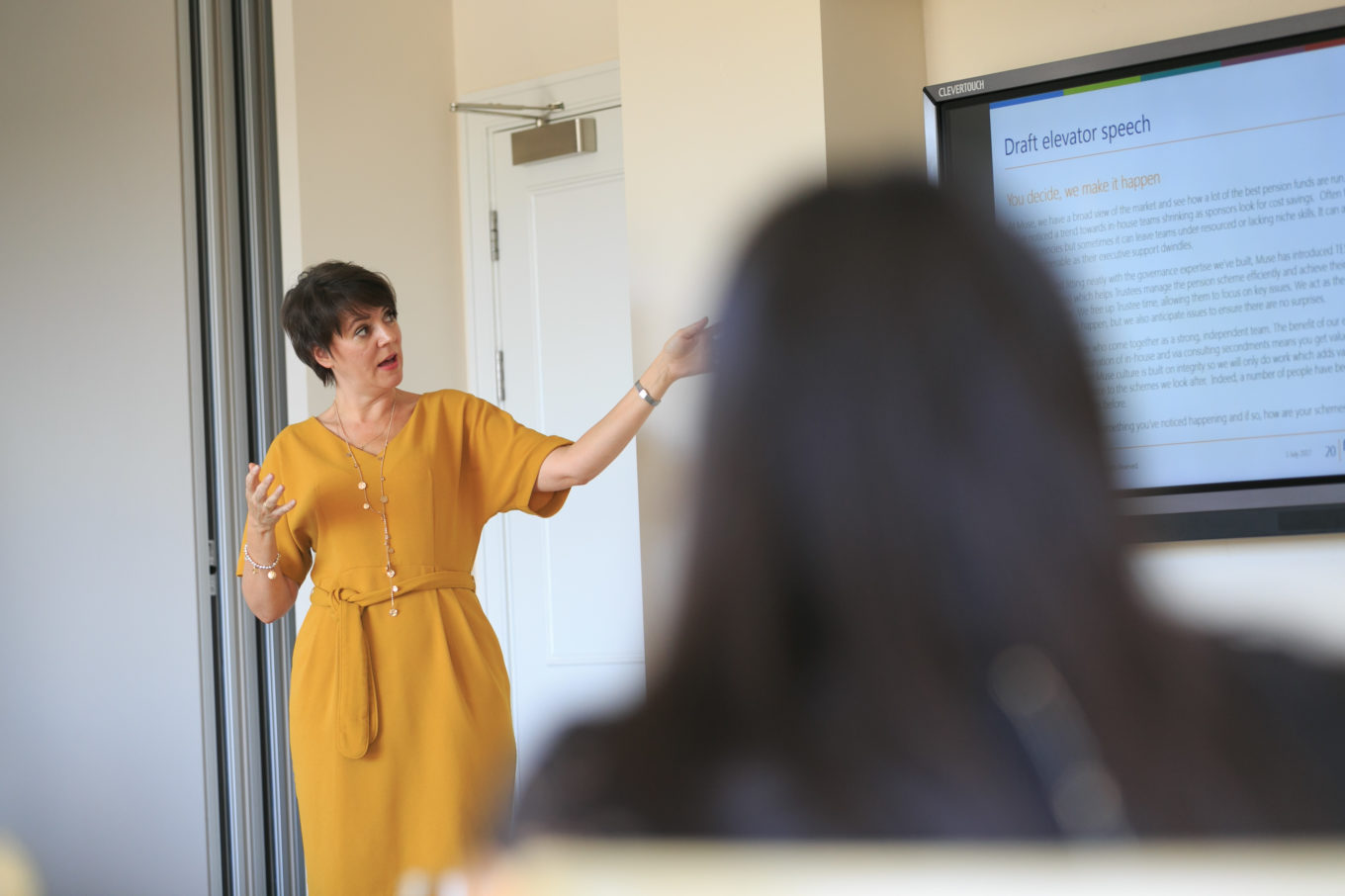 Learn more about how our Outsourced Pensions Management offering can help by downloading our guide here.
Muse provided interim scheme secretarial services to the RNIB Retirement Benefits Scheme for a period of six months, taking over with very little handover and no prior scheme knowledge. Rosanne and Tom hit the ground running and did an incredible job to get up to speed as quickly as they did. Their secretarial services have been excellent, however it's the executive services they have provided that have gone beyond our expectations. They have provided an all-round governance and strategic planning service which has made an immeasurable difference and for which we are very grateful. Muse has provided a comprehensive handover to the new Scheme Secretary, which will allow him to continue their work and complete the overhaul of the Scheme's governance.
Where we are six months on from Muse taking up the role isn't a step change difference, it's a quantum leap. Rosanne and Tom have made my life easier as Trustee Chair and gained the trust and confidence of the trustees, enabling us to be more non-executive. We now have an agreed strategic direction. Importantly, we have a plan to reach it and a well-constructed business plan, risk register and operational work plan to help us keep on top of the big issues and risks and make best use of our advisers. They've made a big difference not just to the trustees but to members who will benefit from the governance changes.
Trustee Chair, RNIB Retirement Benefits Scheme
We appointed Muse to step in when our long-standing Pensions Manager announced his retirement. Their team managed to get up to speed quickly, complete an effective handover and ensure our day-to-day business continues to run, whilst at the same time helping us select, appoint and transition to a new administrator. Muse has become a key part of our team, coordinating activities across advisers. The Muse team has spotted opportunities to bring governance and market insight into the day to day management of our schemes. We feel we are in good hands and, importantly, enjoy working together.
Independent Chair of Trustees, John Laing
Muse took over as a fully outsourced pensions department on the retirement of our long-standing Pensions Director. We were concerned about losing Scheme knowledge, acquired over many years, but we have been delighted with Muse's work. Their team approach mitigated our key man risk and, throughout their time with us, they have been reliable and professional, always keeping the regular business-as-usual cycle moving as well as helping us navigate more sensitive issues. The chemistry is good and they work as though they are our in-house pensions department. We appreciate their thoroughness and professionalism and feel well-supported in all areas of work.
Chairman of the Trustee Board, Xerox Pension Scheme
Muse's support was invaluable in making sure we were still able to drive forward our projects, Trustee agenda and actions during the absence of a key team member on maternity leave. It was a pleasure to work with the Muse team and we valued their wider market knowledge, willingness to challenge and independent viewpoint. Because we had worked with Muse before we 'hit the ground running' and Muse quickly became part of the team.
Pension Strategy Manager, CYBG plc
Helping Trustees and Companies to better govern their pension schemes
Get in touch today to find out how we can help.
Have a problem that needs solving?